For as long as I can remember, bicycles have been my passion, my calling, and ultimately, my career. From the gritty tracks to the high-flying stunts, I've dedicated countless hours to learning everything there is to know about them.
I've had the privilege of riding, testing, and reviewing numerous bikes, and I've seen firsthand how the industry has evolved. Now, the choices are more diverse and advanced than ever before. But with such a vast array of options, how does one decide which bike is the perfect fit?
Fear not, for I've taken the liberty of sifting through the market's best offerings to bring you a comprehensive guide to the best BMX bikes available on the market.
Regardless of your goal, I'm here to help you narrow down your choices and find the ride that's tailor-made for you.
1. Mongoose Legion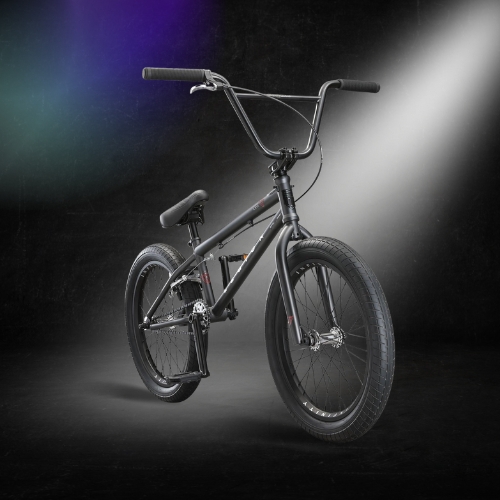 Check on Amazon
Check on Mongoose
The first time I took Mongoose Legion for a spin, the ride was nothing short of exhilarating. The Hi-Ten steel frame, not only promises durability but also offers a level of comfort that's hard to find. Its sleek design, complemented by a range of color options, ensures that it's not just about performance but also about riding in style.
The 20-inch wheel size is perfect, offering the right balance between control and speed. The U-brake system is responsive, giving me the confidence to take on challenging terrains and execute those sharp turns with precision. The steel BMX handlebar feels just right in my hands, ensuring that I have maximum control at all times.
But what truly sets the Mongoose Legion apart for me is the overall experience. Every component, every feature seems to have been crafted with the rider in mind. It's not just a mode of transport; it's a companion on my BMX adventures.
Ever since I tried it out, other models just don't compare. The Mongoose Legion has, without a doubt, become my number one choice, and I believe it has the potential to be the top pick for many others as well.
| Feature | Specification |
| --- | --- |
| Frame Material | Hi-Ten steel |
| Wheel Size | 20 inches |
| Brake Style | U-brake |
| Number of Speeds | 1 |
| Handlebar | Steel BMX handlebar |
| Color Options | Multiple available |
Pros
Sturdy frame build
Responsive U-brake
Multiple color choices
Comfortable handle grip
2. Cubsala Freestyle Bicycle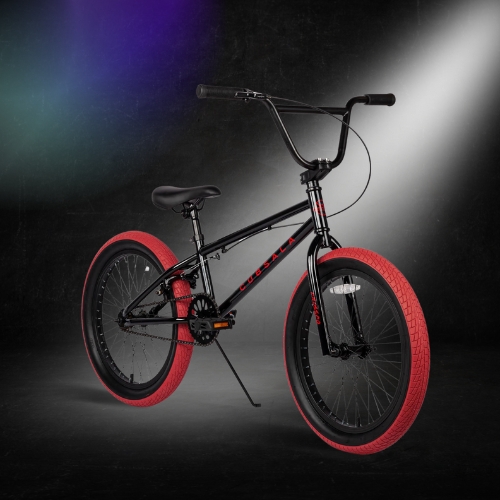 Check on Amazon
Check on Cubsala
I got my hands on the cubsala Crossea Freestyle Bicycle some time ago, and I must say, it's an impressive option. From its sturdy Hi-Ten steel frame to its precision speed control with the Aluminum U-brake, this ride offers a lot. It's designed for young riders, making it a fantastic choice for beginners.
The 18″ x 2.125″ tires mounted on aluminum single wall rims ensure a smooth ride, and the assembly was straightforward with 85% of the bicycle already assembled. If you're looking for a reliable option for young riders, this one is worth considering.
| Feature | Specification |
| --- | --- |
| Age Range | Big Kid |
| Wheel Size | 18 Inches |
| Frame Material | Carbon Steel |
| Suspension Type | Rigid |
| Special Features | BMX Style, Adjustable Saddle |
| Included Components | Kickstand, Tool Kit |
Pros
Sturdy Hi-Ten steel frame
Easy to assemble
Reliable wheelset
Great for beginners
3. Mongoose Freestyle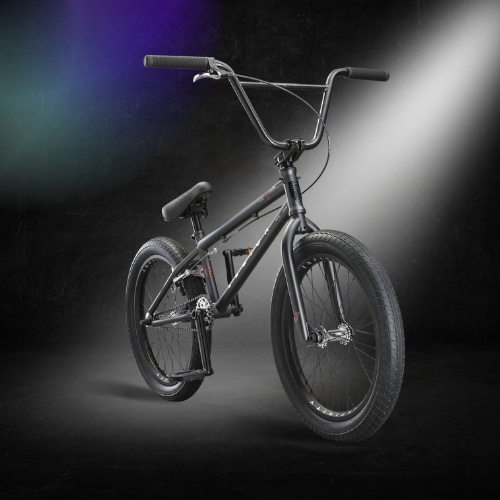 Check on Amazon
Check on eBay
Designed with both beginners and advanced riders in mind, Mongoose Freestyle offers a blend of functionality and style that's hard to come by.
The Freestyle BMX frame is not only aesthetically pleasing but also robust, thanks to the Hi-Ten steel construction. This ensures that the ride can withstand the rigors of daily use and some of the more challenging stunts I attempted.
The 20-inch wheels, while standard for BMX, felt particularly smooth, making my rides more enjoyable. One feature that genuinely stood out for me was the 360-degree handlebar spinning capability. It allowed for some impressive tricks and gave me a sense of freedom and flexibility while maneuvering.
The front and rear caliper brakes responded promptly, ensuring safety even during rapid descents or sudden stops.
| Feature | Specification |
| --- | --- |
| Design | Freestyle BMX frame |
| Wheel Size | 20-inch wheels |
| Brakes | Front and rear caliper brakes |
| Handlebars | 360-degree handlebar spinning |
| Material | Hi-Ten steel |
| Usage | Beginner to advanced riders |
Pros
Suitable for all skill levels
Sturdy and durable build
Smooth 360-degree spins
Responsive braking system
Stylish design
Cons
Slightly heavy feel
Assembly can be tricky
4. Elite Bicycle Destro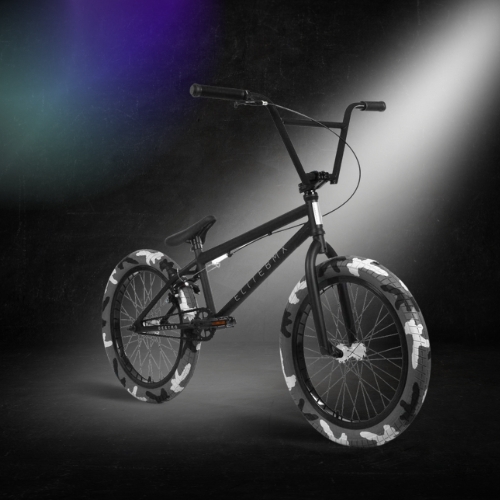 Check on Amazon
Check on Walmart
Check on eBay
The Elite Bicycle Destro is another solid option. The reinforced frames, designed to absorb the impact from tricks, and the lightweight combo of a foam-padded seat with Elite BMX embroidery, are just a few of the standout features.
The 3-piece Cro-Mo crankset and the Elite free-coaster with its sealed bearings further enhance the riding experience. While no model is without its drawbacks, the pros of the Elite Bicycle Destro certainly outweigh the cons.
It's a great option for those looking to venture into the BMX realm or even seasoned riders seeking a reliable companion.
| Feature | Specification |
| --- | --- |
| Frame Reinforcement | Reinforced at impact points |
| Seat Combo | Foam padded with Elite BMX embroidery |
| Crankset | 3-piece Cro-Mo |
| Free-coaster | 6061-T6 aluminum shell with sealed bearings |
| Frame Material | Chromoly Steel, Aluminum |
| Included Components | Set of Pegs |
Pros
Reinforced frame for durability
Lightweight seat combo
Smooth free-coaster experience
Reliable 3-piece Cro-Mo crankset
Versatile for tricks and rides
Cons
Seat might feel firm for some
Requires some initial adjustments
5. Elite BMX Bike Freestyle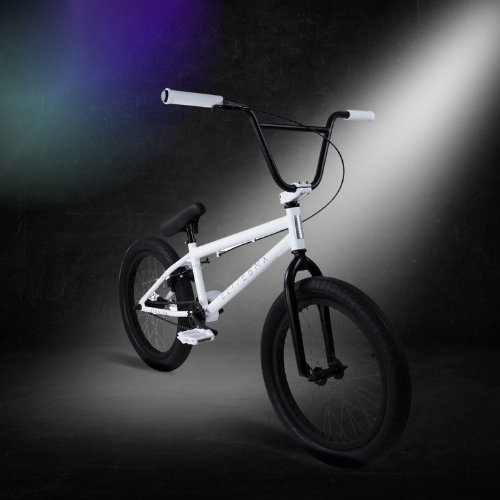 Check on Amazon
Check on Elite
Elite BMX Bike is designed for both the streets and the skatepark, making it versatile for different terrains. While I had my reservations, I genuinely believe this is a good option for those looking for a blend of performance and aesthetics.
The frame's hi-tensile steel construction ensures durability, and the inclusion of grinding pegs is a nice touch for those looking to perform tricks. The bike's design caters to different age groups, with size options suitable for younger riders as well as adults.
| Feature | Specification |
| --- | --- |
| Bike Type | BMX |
| Age Range (Description) | Adult |
| Wheel Size | 16 Inches |
| Frame Material | Alloy Steel |
| Special Feature | Set of pegs |
| Color | PW – Blue |
Pros
Versatile for different terrains
Durable hi-tensile steel frame
Suitable for various age groups
Grinding pegs included
Aesthetically pleasing design
Cons
Might require professional assembly
Some parts may need tightening
6. Mafiabikes Kush1 Mint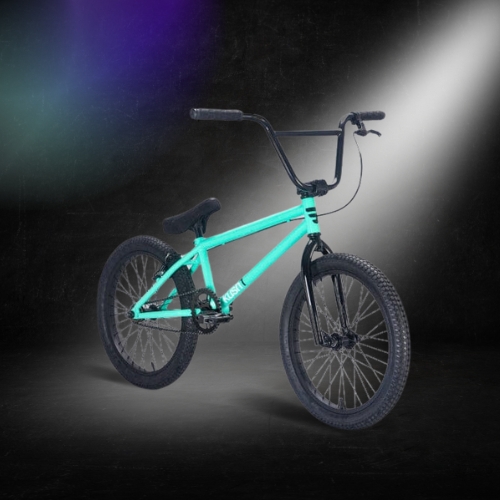 Check on Amazon
Check on Mafiabikes
Check on eBay
Firstly, the aesthetics of the Mafiabikes Kush1 Mint are undeniably appealing. The mint color gives it a fresh and modern look, which I personally found quite attractive. Riding it around, I noticed the precision of its hi-tensile steel frame, which provided a good balance between sturdiness and flexibility.
The 2.3" fat tyres were a notable feature, offering a comfortable ride on various terrains. However, while the bike's single-speed setup simplifies things, it might not be everyone's cup of tea, especially if you're used to multi-speed BMX models.
That said, for its price point and the features it offers, the Mafiabikes Kush1 Mint is certainly worth considering, especially if you're looking for a straightforward, no-frills BMX experience.
| Feature | Specification |
| --- | --- |
| Bike Type | Freestyle |
| Age Range (Description) | Adult |
| Wheel Size | 20 Inches |
| Frame Material | hi tensile steel |
| Suspension Type | Rigid |
| Special Feature | freestyle, BMX |
Pros
Attractive mint color
Sturdy hi-tensile frame
Comfortable fat tyres
Suitable for adults
Simplified single-speed
Cons
Might be basic for some
Single-speed limits versatility
7. Huffy Axilus 20″ BMX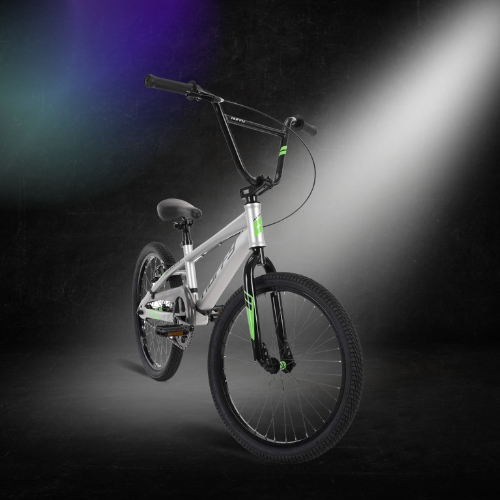 Check on Amazon
Check on PlanetsHoup
Riding it on various terrains, from sidewalks to dirt tracks, the Huffy Axilus 20″ showcased its versatility. The 20" x 1.95" tires paired with aluminum alloy single-wall rims provided a strong platform, and I could feel the difference in handling and speed.
While the ride was mostly smooth, there were moments it felt a bit clunky, especially during rapid speed changes. Despite the minor hiccups, the overall build quality, especially the steel frame, and the rear linear pull V-brake, impressed me.
For those looking for a BMX that offers a balance between performance and style, the Huffy Axilus might just be the one.
| Feature | Specification |
| --- | --- |
| Bike Type | BMX Bike |
| Age Range (Description) | Adult |
| Wheel Size | 20 Inches |
| Frame Material | Alloy Steel |
| Suspension Type | Rigid |
| Special Feature | Lightweight |
Pros
Sleek matte silver paint
Versatile on various terrains
Strong alloy rims
Durable steel frame
Efficient rear V-brake
Cons
Slightly clunky at times
Chain tension adjustments needed
8. Eastern Bikes BMX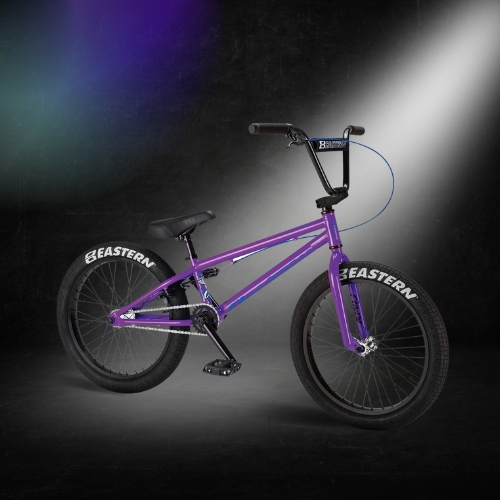 Check on Amazon
Check on Eastern Bikes
Check on eBay
The vibrant purple hue caught my eye immediately, and the promise of a lightweight freestyle design piqued my interest. As I took it for a ride, I found the sealed bearing hubs on both the front and rear to be a notable feature, ensuring a smoother experience.
My personal experience wasn't entirely positive. I felt that for someone of my expertise and riding style, it didn't quite meet all my expectations. But here's the thing: while it might not have been the perfect fit for me, I can easily see how it could be the right choice for others.
The Cobra Model is designed for riders aged 13 and up, and with its hi-tensile steel frame, it promises durability. Plus, the 20 years of customer service guarantee from Eastern Bikes is a testament to their commitment to their customers. While the Eastern Bikes Cobra Model might not have been my cup of tea, I can understand its appeal.
| Feature | Specification |
| --- | --- |
| Bike Type | BMX Bike |
| Age Range | Adult |
| Wheel Size | 20 Inches |
| Frame Material | Alloy Steel |
| Suspension Type | Rigid |
| Special Feature | Freestyle, Lightweight |
Pros
Lightweight design
Durable frame material
Sealed bearing hubs
20 years customer service
Suitable for ages 13+
Cons
Might not suit all riding styles
Some components feel basic
Buyer's Guide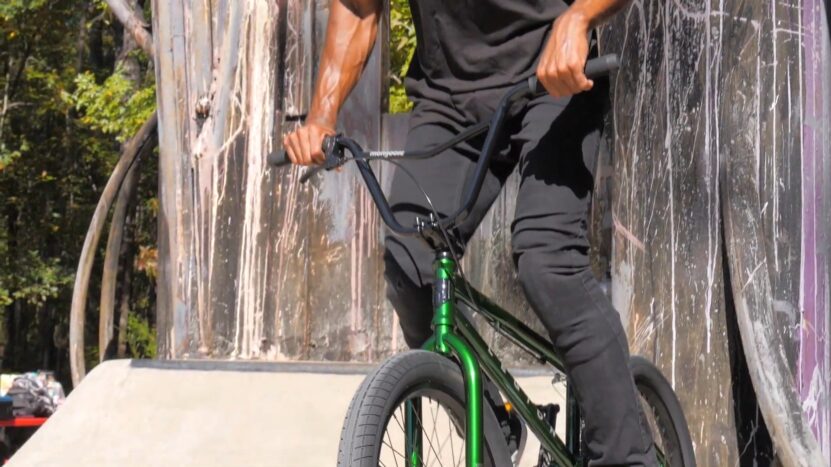 Frame Material and Durability
The frame is the backbone of any bike, and its material plays a crucial role in the bike's performance and longevity. Most BMX bikes are made from either chromoly or aluminum. Chromoly is a steel alloy known for its strength and flexibility, making it a popular choice for BMX frames.
Bikes made from chromoly are typically more durable and can handle rougher treatment, making them ideal for street and park riding. Aluminum, on the other hand, is lighter than chromoly and is often used for racing BMX bikes.
Its lightweight nature allows for faster speeds but might not offer the same durability as chromoly when subjected to hard landings or crashes. It's essential to weigh the pros and cons of each material based on your riding style and needs.
Wheel Size and Tires
BMX bikes predominantly come with 20-inch wheels, considered the standard for most riding styles. For younger riders or those looking for a more compact ride, there are also 16-inch and 18-inch options.
On the other end of the spectrum, 24-inch wheels, often referred to as 'cruisers', offer more stability but might not be as agile for tricks. Tire tread is another vital consideration. For street and park riding, you'd want smoother tires that offer better grip on concrete and wood.
Dirt riders, however, should look for tires with more aggressive treads for better traction on loose surfaces. Always consider the terrain you'll be riding on when choosing tires.
Brakes and Safety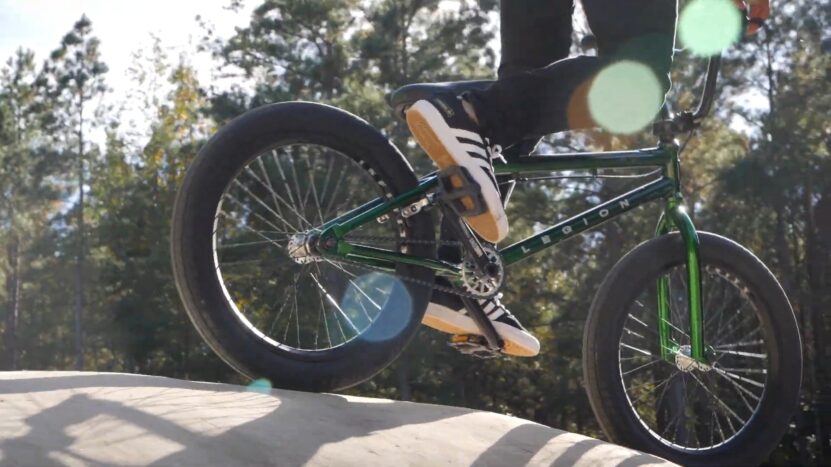 Safety should always be a priority, and the braking system of a BMX bike is a significant part of that. Most BMX bikes come with a U-brake system, which is mounted on the rear and provides adequate stopping power for most tricks and styles.
If you're into BMX racing, you might want to consider bikes with disc brakes, as they offer superior stopping power, especially in muddy conditions. Regardless of the brake type, ensure it offers responsive and reliable stopping. Regular maintenance is also crucial to keep the brakes in optimal condition.
And always remember, while brakes are essential, wearing protective gear, including helmets, knee pads, and elbow pads, is equally important.
Price and Brand Reputation
BMX bikes come in a wide range of prices, from budget-friendly options to high-end models. While it might be tempting to go for the cheapest option, it's essential to consider the bike's quality and durability. Often, investing a bit more upfront can save you money in the long run by avoiding frequent repairs or replacements.
Brand reputation can be a good indicator of quality. Established BMX brands have years of experience and feedback, leading to refined and reliable bike models. Reading reviews, seeking recommendations, and testing out bikes in person can also provide valuable insights.
Remember, the best BMX bike for you is one that fits your budget while meeting your riding needs and aspirations.
FAQs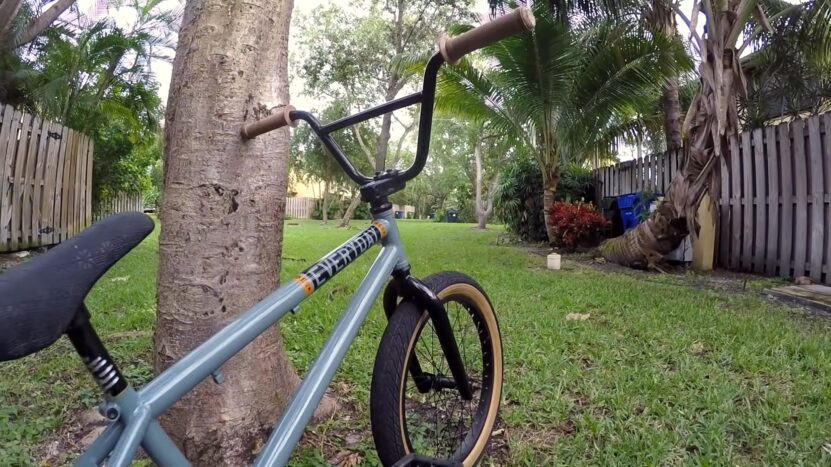 Can I use a BMX bike for daily commuting?
While BMX bikes are primarily designed for tricks, jumps, and races, they can be used for short-distance commuting. They might not be as comfortable or efficient as road or hybrid bikes for longer distances due to their compact design and single gear setup.
Do BMX bikes come with warranties?
Most reputable brands offer warranties on their bikes, covering defects in materials or workmanship. The duration and terms of these warranties can vary, so it's essential to check with the manufacturer or retailer before making a purchase.
Are there specific BMX bikes designed for women and children?
Yes, many brands offer BMX bikes tailored for women and children. These bikes often feature smaller frames, adjusted geometries, and lighter materials to cater to different body types and strengths.
Is it essential to wear protective gear while riding a BMX bike?
Absolutely! Regardless of your skill level, wearing protective gear like helmets, knee pads, elbow pads, and gloves is crucial to ensure safety, especially when performing tricks or riding on challenging terrains.
Can I customize my BMX bike after purchase?
Yes, one of the advantages of BMX bikes is their customizability. Riders can upgrade or modify parts like handlebars, pedals, saddles, and tires to suit their preferences and enhance performance.
The Bottom Line
Going through countless BMX bicycles can be quite a time-waster. That's why I, at one point, decided to share my two cents on what are the best options at the market currently.
High-grade steel or aluminum frames, reliable braking systems, and a comfortable yet responsive geometry are non-negotiable for peak performance, whether you're tackling street, park, or dirt riding.
Considering all these factors will surely give a good fruit, helping you to make a proper decision after navigating the market, without time wasting.