Addmotor is an electric bike and trike company that began its journey back in 2011 in El Monte California. With a desire to create and manufacture high-quality electric bikes that everyone can afford, Addmotor has developed some of the best e-bike for family members to meet their needs.
The brand focuses on introducing top-quality electric bikes, trikes, and accessories. This article will review one of the best cargo e-bike, the GAROOTAN M-81 cargo electric bike by Addmotor.
The Addmotor m-81 is a unique electric cargo bike that is compact, versatile and has top-quality components. It is a robust cargo bike that blends rugged capabilities, exceptional comfort, and an affordable cost. The m-81 comes in five colors; Orange, Neptune Blue, Army Green, Pearl White, and Black. Of these colors, army green is usually preferred and is the most popular.
You can ride it with a passenger since it is a cargo electric bike and haul a reasonable amount of cargo as well. Therefore, this is an ideal option to carry cargo, go shopping, run errands, or even go on a picnic.
Aside from being visually pleasing, the frame is also durable and can comfortably fit riders of decent height. That being said, the M-81 is a versatile bike that would make a great family bike.
Assembly and Frame Details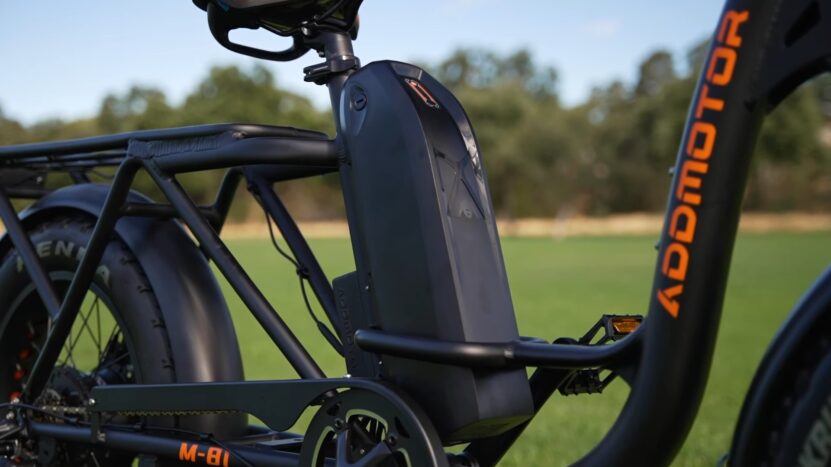 If you order the m-81 online, this longtail e-bike comes shipped in a box. Since the front wheel, fender, front light, pedals, and handle are not attached, you need to spend some time attaching them correctly. If you don't understand how you can do that, there's no need to worry as the company has an in-depth build video on YouTube to help you out.
The m-81 is not a small bike. It's quite robust and weighs around 75 lbs. So it is quite heavy compared to traditional electric bikes but not too heavy considering it is a cargo electric bike. The bike is only available in one frame size and is designed as a step-through frame. Thanks to the step-through design, you can easily get on and off the bike.
It also features a handle in the middle of the frame. This can be used to pick up the bike if you need to carry it upstairs or anywhere you want to store or park it. The frame also has bolts installed to attach the water bottle cage, front rack, and footrests. There is a very long rear rack that is welded into the frame of the bike to carry any passengers as well.
Under the Hood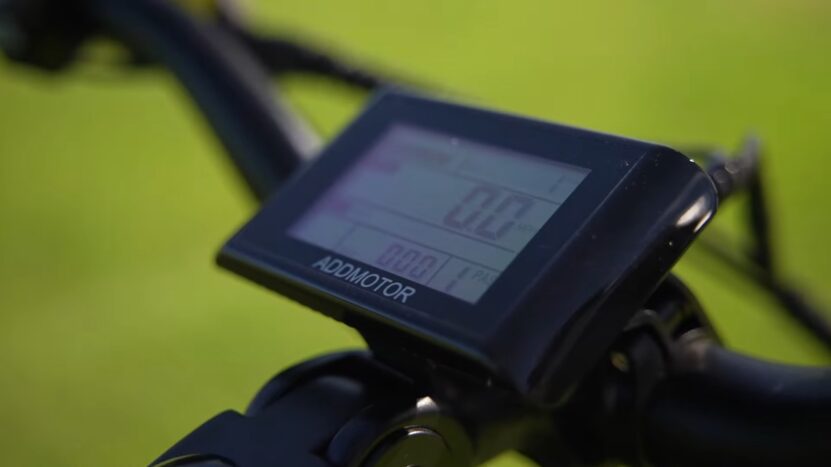 For going out and roaming around town, an m-81 cargo bike is a viable option. Under the hood, there's an Addmotor branded 750-watt hub motor that has tons of torque on tap. The motor is powerful enough to power this cargo electric bike, providing smooth acceleration as well as high torque. The top speed of the M-81 is 28mph with pedal assist.
The 750W motor is paired with a 48v 20amp Samsung battery to provide up to 907 peak watts. The estimated miles per charge range of this cargo electric bike is up to 80 miles in PAS1 mode, which is also pretty impressive. The battery is also detachable so it can be removed from the bike and charged separately.
Pedal Assist and Throttle
The m-81 has pedal assist with 7 levels through which you can choose what level of assistance you need. Seven different levels of pedal assist offer nuanced support for different gradients.
You can choose to have more assistance from the motor on rough trails or climbs to have a smooth ride. With a high level of motor power, you'll need to pedal less to propel forward. However, increasing the assist mode also drains your battery faster.
When you get tired and don't want to pedal anymore, the M-81 has got you covered here as well. Throttle mode is also installed in the M-81 so when you become tired of carrying cargo or pedaling too much you can simply ride it like a motorbike with the help of throttle mode. However, using throttle mode also drains your battery quickly.
Moreover, for a quieter ride, ensuring proper lubrication and maintenance of the chain and gears can significantly reduce bike noise when pedaling, enhancing your overall cycling experience.
Features
The handlebar has an LCD screen in the middle which works as a controller for different features of this cargo electric bike. You can choose between different throttle and pedal assist levels and 7 levels of PAS as well. The LCD also has information like your battery life on the top left. It also has your current speed in the middle. Lastly, you can cycle through the odometer and trip information as well.
On the left of the handlebar, there is a button for the front and rear lights which can be switched on or off by holding the top arrow button. The LCD will also light up after you turn on the front light so you can see it in the dark. As a bonus, this cargo electric bike also features turning lights. This is so you can indicate to the previous rider which side you're intending to turn on before making the actual turn.
The handlebar also features a horn that is quite loud and will continue its sound for as long as it is pressed. The M-81 also has an EB 2.0 light system. Riders will be able to stay safe and in control with a waterproof 40-lumen headlight and rear light with upgraded combination buttons.
The bike additionally offers suspension forks, which makes the ride much more comfortable, especially when two people are riding the bike or when there is extra cargo onboard. The fat tires on this cargo electric bike are appropriate for riding on rough terrain and offer quite high efficiency and performance. For all-terrain comfort, Fatty Kenda Gigas' 4″ tires are wrapped around 20″ wheels.
Bottom Line
For those who want a compact electric cargo bike, the Addmotor M-81 is a suitable choice. With its power and range, the M-81 offers plenty of options, including a rear rack and an optional front basket.
So what are you waiting for? Visit Addmotor and get your fat tire electric bike today.