We live in a world where trends are constantly changing. Electric bikes, on the other hand, have been around for some time and will continue to be popular. There has been an increase in the popularity of e-bikes over the past few years. With their upright seating position and fat tires, electric cruiser bikes emphasize comfort.
To get a taste of what electric bikes are like, cruisers are a great place to start. Urban cruiser ebike is less expensive than mountain bikes or road bikes yet still provide power assistance. Making e-bikes accessible to almost everyone.
There is nothing more fun than riding a cruiser electric bike. Addmotor is a well-known brand for its moped style e bike and fat tire electric bikes. Addmotor has introduced some of the most popular electric bikes over the years. In this article, we are aiming to review another good cruiser ebike from Addmotor, the M-66 R7.
Intro
A moped-type electric bike, the Addmotor M-66 R7 is powerful, fast, and fun. The M-66 R7 is an excellent electric cruiser bike because it has passenger footpads and an easily adjustable stem that is tool-free, making it easy for two people to ride. The M-66 R7 is available in 5 different colors: Orange, Pearl White, Black, Yellow, and Army Green.
Considering the motor is also in the rear wheel, the AddMotor M-66 does weigh a bit more backward due to the location of the battery. AddMotor's M-66 weighs around 92 pounds, which is a pretty hefty amount considering its maximum carry capacity is 300 pounds.
Getting around your city on this e-bike is faster than driving a car and cheaper than buying a season pass for public transportation. This electric moped-style bike is suitable for just cruising around without even pedaling.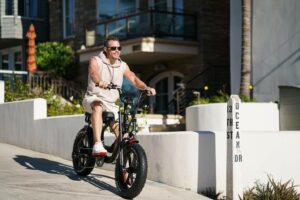 Frame design
Are you looking for a motorcycle, a moped, an e-bike, or a fat-tire bike? You raise a pertinent point. There is a little bit of everything in Addmotor's M66 R7 Cruiser Bike as it is a retro fat tire electric bike. The M-66 R7 features a retro 1970's look and a step-through frame, making it one of the most impressive electric bikes on the market.
Due to its step-through design, it's easy to get on and off without kicking your legs over a center bar. It's important to note that the large banana-style seat cannot be adjusted up or down due to the fixed height. E-bikes with this step-through design are best suited to riders up to 6ft. In addition to powering the bike's fat tires and the weight of 91.5 pounds, this 750W motor can also carry a passenger.
Despite their low profile, the 20-inch by 4-inch fat tires have a large air volume, giving them some additional suspension. You can also air them down pretty low if you want to ride along the beach or on a pebbly, sandy road.
Motor & Battery
Powering the M-66 R7 Fat Tire Bike is a powerful Bafang 750W motor from Addmotor that can provide up to 80 Newton meters of torque. Either pedal assist or the twist throttle can be engaged. This is something we can guarantee: riding an Addmotor M-66 E-Bike is much more fun than using any other bike. Nothing puts a huge grin on your face like riding this bike. The M66 is a class 2 moped-style bike that has a top speed of 20mph. This speed can be extended up to 25 miles per hour in throttle mode.
This powerful 750W motor is paired with a 48v*20ah EB 2.0 Samsung battery. This brand-new Samsung 18650 battery provides an average of 20-30 miles per charge in throttle mode. Everything on the M-66 R7 bike is powered by this powerful battery. However, in the PAS1 assist mode, the bike can give up to 45-60 miles.
Pedal Assist and Throttle
There are 7 levels of pedal assist on the M66 R7, so you can select the level of assistance you desire. The pedal-assist system offers seven levels of support to accommodate gradients of different levels. The motor can be switched to give you more assistance on rough trails or climbs to make your ride smoother. Your motor power will need to be high to propel you forward with less pedaling. You will, however, drain your battery faster when you increase the assist mode.
The M-66 has you covered when you're tired and don't want to pedal anymore. The M66 is also equipped with a throttle mode. The throttle mode allows you to ride it like a motorbike when you are tired of hauling cargo or pedaling too much.
Features
The bike is one of the most unique because it allows for a second person to ride behind you. Two adults can comfortably sit on the large leather banana seat of the Addmotor, as well as the rear foot pegs similar to those found on older BMX bicycles.
On the M-66, both feet could be accommodated on a footrest when riding solo. There are bright and visible lights on the bike's front and rear. The light will need to be re-mounted if a front basket accessory is added to the bike. This can be a bit difficult to secure.
Kenda Tires are used on this bike, sized 20 x 4.0. For a smooth, comfortable ride on gravel, mud, and dirt, as well as on the road or bike path, this fat tire is just right. Although we haven't tested the bike in the winter, these tires and a heavier bike would surely be stable.
Furthermore, the EB 2.0 Light system enhances visibility as well as provides advanced electrical functionality. Due to its long range of 105+ miles, this cruiser bike is suitable for long-distance rides. Consequently, it is a practical option for commuting, heading to the gym, shopping, and even picnics.
Bottom Line
The M-66 is a stylish stand-out moped style electric bike to commute to work, run errands and just get outside. The e-bike offers a fun, unique, and smooth riding experience for people of all ages. Visit Addmotor to get this urban cruiser ebike if you are considering this wonderful option.