Commuting is an undeniable need for us; looking for upgraded, sophisticated, and better ways is how humans evolve constantly. Our technology and advancement have been robust, from the advent of tires to bikes, cars, and planes. But the environmental effects and their negative impacts have become a big motivation for people to look for alternative ways of traveling.
Electric trikes, more commonly known as E-trikes, are one of the best ways to travel if you want to switch from cars to promote a better environment. It also has numerous health benefits that add to its appeal. Using a car to travel tends to make us lazy and leads to multiple health issues. Using an E-trike has the opposite impact; it is recommended as a great way to get cardiovascular exercise to strengthen your heart and lungs and build core muscles.
Riding an e-bike is better than using a car as it creates a much better and stronger positive impact not just on your personal health but also is beneficial for the environment. It helps lower the carbon emissions from the car's use and also helps in negating and stalling the carbon emission that would result if you buy any other electric vehicle.
Maxfoot has a large variety of e-trikes to offer. It has 6 fantastic colors for you to cruise on and own your style. From classic black to Dark Green, Candy Red, Yellow, Neptune Blue, and Pearl white, you can have a secure and healthy drive, manage your chores, beat the rush hour, and avoid the traffic while enjoying your favorite colored e-trike. This fat-tire electric cargo trike has high traction power, which enables you to drive safely, and can also be used by older people without any threat that a regular bike might have.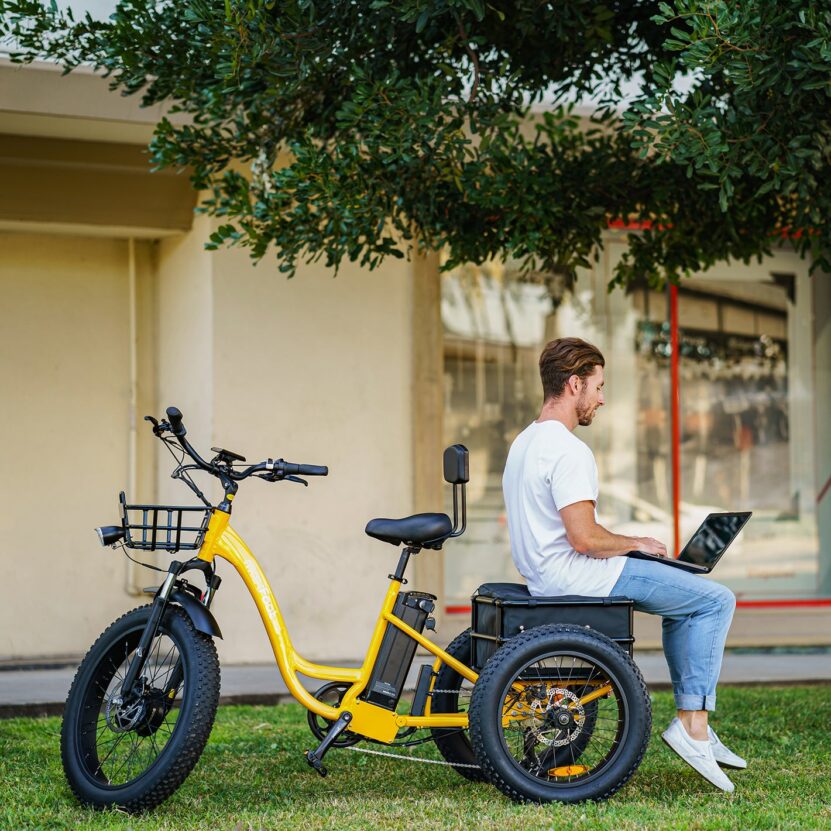 The MF-30 comes with a high-torque motor and has a SAMSUNG 28V 17.5AH lithium battery, a shock-resistant, strong shell battery that gives a 50-70km ride on a 5-hour charge time. It is also waterproof and keeps the electric bike's drive smooth and manageable. With a waterproof basket bag that has a 48L capacity, Maxfoot's e-trike is a convenient and moderately paced option for people who want to make a better choice for their better and healthier tomorrow. You can now have fun without worrying about damaging your planet and the environment for others.
Cars provide the benefit of communal traveling, especially if you have a family. And while taking trips together in a single vehicle has its charm, no one can deny the adventure you can have going on an e-trike, taking a trek through the mountains riding in a group. You can build your health and have a unique and fun trip with your friends or family, soak in the uplifting effects of nature, and refresh yourself.
Cars are cumbersome, require fuel and emit harmful carbon, and are also known to induce road rage. Riding an electric trike provides a healthy, rejuvenating experience while providing natural exercise. MF-30 is equipped with a step-through Frame and Brushless Bafang Geared 750W Hub Motor to provide precision balance, and its fat tires and ½ Twist Throttle give it variable speed control and prevent the dangers of imbalance and overturning due to high traction.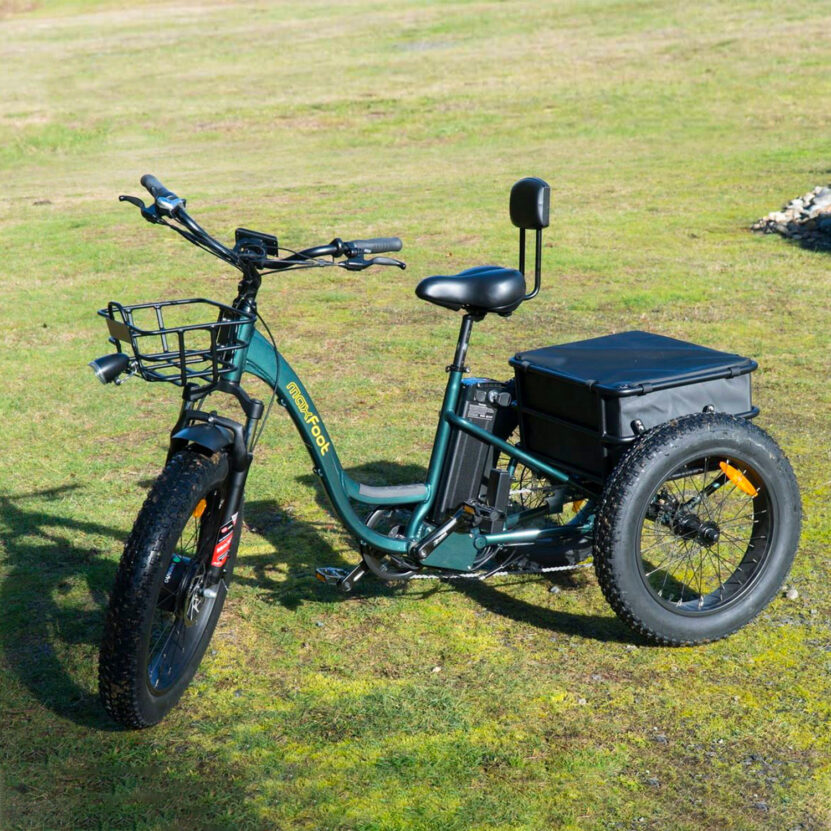 Its 5-inch LCD Display with USB Port allows connectivity to smart devices, and its harness provides a robust security fit that keeps you strapped in your seat firmly. It has a 25A overall waterproof controller installed, which makes controlling the E-bike extremely easy. Despite its advanced features and all motor functions, MF30 is designed to protect and provide a completely secure riding vehicle, which enhances its appeal to bike riders and people who love to have the twist of technology in their rides.
It's a little preliminary to say whether e-trikes can replace cars completely. Even though there are several reasons why choosing an e-trike is going to be a much better choice, the fact remains that having a cool, high-powered, and stylish car is always going to outweigh a healthy option for young people. The same cannot be said for people over fifty, however. The mature generation can be trusted to make the more innovative and better choice, as a fat-tire MF-30 electric trike allows them to be fit and healthy. They can be proactive and intelligently address their increasing age and their exercise concerns. It also allows you mobility, and its ease of use make it a family vehicle.
The e-bike and the e-trike market has tasted a compounded annual growth of 12.6% from now to 2028, making it safe to say that these car alternatives are here to stay. Its overall healthy impact on humans and the environment has made the deal sweeter. Countries like China and Japan have taken significant steps to support e-bike and e-trike culture by developing the infrastructure promoting this healthier choice.
The trends are changing in the US, too, as a growing segment of the population is leaning towards e-trikes and e-bikes. Owning and driving a car and putting up with its maintenance and fuel requirements is the second most expensive cost for people worldwide. In these trying times when the majority of the world is suffering through inflation and fuel price hikes, switching to sophisticated, battery-operated, rechargeable e-trikes is a pragmatic and logical solution. Its moderate speed, secure seating, and high-traction fat tires are perfect for people who like to be up and about without too much hassle.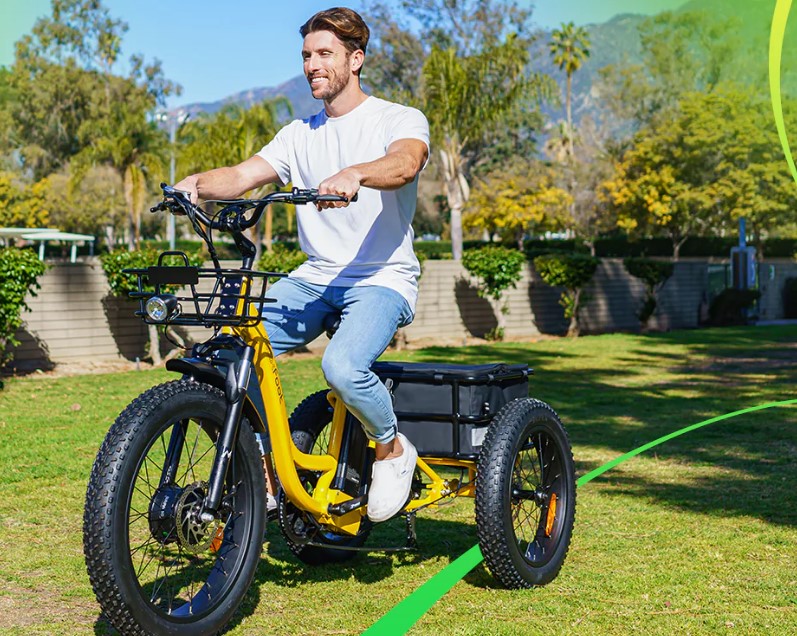 The MF-30 has been designed for sturdiness and a sustainable commute, you may not be able to whizz past anyone, but it's a reliable and efficient option for people who have a short enough travel from their home to their work to replace cars easily. And with innovative technology reshaping our daily lives, Maxfoot electric trike offers an affordable and healthier alternative that enables you to travel and maintain your look with style and ease. While e-trikes may never fully replace cars, they inevitably go a long way in reducing the usage and desirability of vehicles.
With Maxfoot MF-30, you can have a double advantage. You can save money while building up your physical fitness and strength, staying alert, and contributing to protecting the environment. For suburban areas where people are willing to take life at their own pace, e-trikes, with their more remarkable hauling ability, will flourish and result in higher income and low maintenance costs.
Read also this article.