Ever considered hopping onto a three-wheel bike or tricycle for a spin? If you're a senior like my parents who love a good ride, you know that these aren't just playthings. Three-wheelers are amazing, blending stability and fun in a way that's just perfect for people in their golden years.
I've had the joy of pedaling away on countless models, soaking in the good vibes, and learning a ton about what makes each one special.
So, I've decided to put all my biking hours to good use and help you folks out. I've taken a deep dive into the world of three-wheelers and come up with a guide to the best three-wheel bikes for seniors. We're going to check out their features, compare a few top models, and figure out which one will get you the most bang for your buck.
Three-Wheelers in a Nutshell
Three-wheel bikes for seniors, also known as adult tricycles or trikes, are a kind of bike that – you guessed it – comes with three wheels instead of two. But that's not all! These babies are designed with seniors in mind, and they bring some seriously cool advantages to the table.
First off, three-wheel bikes offer a rock-solid level of stability that you don't get with the standard two-wheelers. No more worrying about balancing or risking tumbles. The trike's got your back, whether you're cruising down the street or standing still.
Secondly, these bikes are super comfy, unlike most uncomfortable bike seats. They often come with large, cushy seats that are kind on your backside and lower back. Plus, many models let you keep your feet flat on the ground when you're not pedaling, so hopping on and off is a breeze.
Now, let's talk about the storage space. Many three-wheel bikes have spacious baskets or platforms at the back. They're perfect for holding groceries, your cute little furball, or a picnic basket for a sunny day out in the park. Talk about functional!
Finally, three-wheel bikes are excellent for exercise. Getting our muscles moving can be a bit tricky as we age, but these bikes make it fun. You can get your daily dose of cardio while feeling the wind in your hair and the sun on your face. Plus, they're easier on the knees and joints compared to traditional bikes.
Our Top Picks
1. Sixthreezero BodyEase Tricycle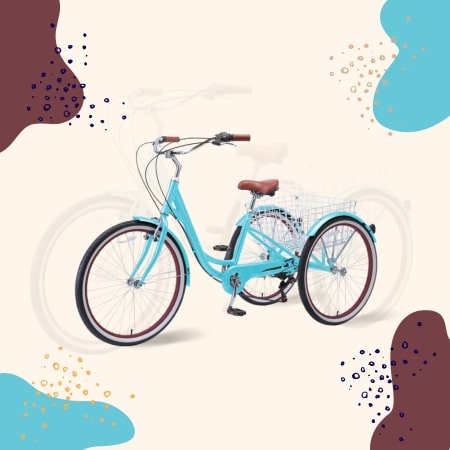 Check on Amazon
Check on DvaSata
I recently had the chance to take the BodyEase Tricycle out for a spin, and wow, I was totally blown away!
Now, I love a good workout as much as the next person, but let's be real – some days, you just want to take it easy. That's where this electric tricycle shines. It's got this nifty motor that'll do all the heavy pedaling for you. Talk about a game-changer!
What really wowed me was how inclusive the BodyEase Tricycle is. If you've got physical limitations that make pedaling a regular bike tough, this tricycle's got your back. Thanks to the electric motor, anyone can get out and enjoy a ride. That's a big thumbs-up from me.
All in all, if you're after a laid-back cycling experience without compromising on the fitness part, the BodyEase Tricycle should be right up your alley. It delivers a whole lot of fun, freedom, and accessibility, all wrapped up in one awesome package.
Pros
7-speed for versatility

Rear folding basket

Comfortable saddle

Sturdy steel frame

Easy-to-use handbrakes
Cons
Pricey initial cost

Assembly required
2. MOONCOOL Adult Tricycle 3 Wheel 7 Speed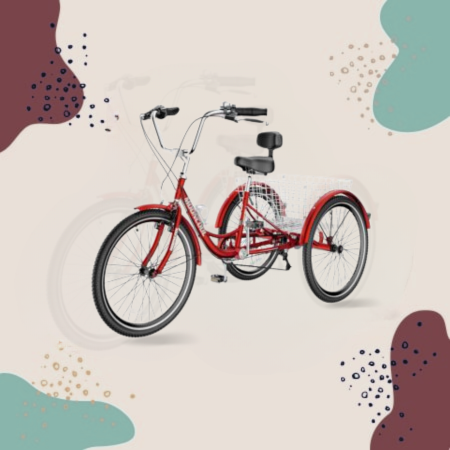 My recent acquisition was the MOONCOOL Cruiser Bike designed specifically for adults, and I must say it has a lot to offer for its price point.
The bike came with an easy-to-understand user manual and a set of assembly tools. It only took me about 30 minutes to get the bike fully set up and ready to roll. This is a major plus for someone who doesn't want to spend hours figuring out what goes where.
This unit was designed with comfort in mind, and it shows. The extra-soft wide seat, complete with a backrest, made for an exceptionally comfortable ride. The 7-speed feature is a boon for adjusting to varying terrains.
You can easily shift to lower gears for uphills and switch to higher ones for flat roads and downhills. I docked a star because although the seat is comfortable, a bit more cushioning wouldn't hurt for longer journeys.
The tricycle boasts a sturdy three-wheel design and is made of high-quality alloy steel that can support up to 350 pounds. Its stability is exemplary; I never felt like I was going to tip over or lose balance, even when carrying cargo.
With a 7-speed drivetrain, the bike offers reasonable speed options. I was satisfied with its overall performance but found the rear expander brake somewhat less responsive than the front linear pull brake. This imbalance is noticeable when you need to brake suddenly, and it takes a bit of getting used to.
Whether you're an older adult looking for a reliable mode of exercise or someone who needs a stable and roomy bike for errands, this tricycle is a sound investment. With some minor improvements, particularly in the braking system, it could easily be a five-star product.
Pros
Easy to Assemble

Stable Three-Wheel Design

Suitable for Seniors

Adjustable Seat

Ample Storage Space
Cons
Limited Speed Range

Pricey Compared to Bicycles
3. Schwinn Meridian Adult Tricycle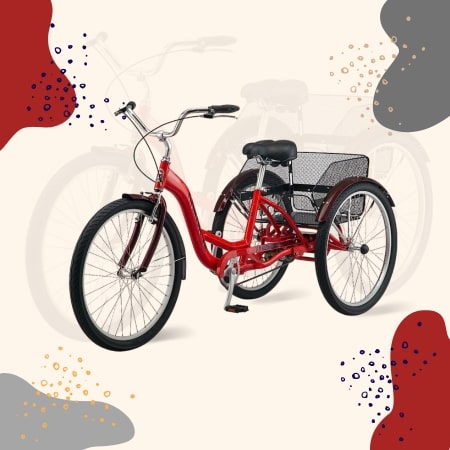 Check on Amazon
Check on Walmart
The first thing that caught my eye about this trike was its design. It's clear that comfort and ease of use were top priorities when this baby was put together. The ride was so smooth it felt like I was gliding on air, and that's no small feat when you've been riding bikes as long as I have. Moreover, it is a huge plus for seniors, as a smooth ride should be a number one priority.
I found the basket in the front super practical. It's spacious enough to hold a decent haul of groceries or, in my case, a variety of random items from my garage that I was curious to see if they'd fit (spoiler alert: they did!).
One detail I truly appreciated was the addition of fenders and a chainguard. Not only did they add to the tricycle's sleek look, but they also kept me clean and dry during my ride. No worries about muddy splashes or the greasy chain marks you'd usually encounter on regular bikes.
All in all, the Schwinn Meridian is the real deal. It's an easy-to-ride tricycle that marries comfort and convenience beautifully. If you're looking for a smooth ride with no fuss and a dash of practicality, this unit should definitely be on your radar.
Pros
Step-through frame for ease
Adjustable handlebars
Large rear storage basket
Alloy rims for durability
Comfortable padded saddle
Cons
Limited speed options
Assembly can be tricky
4. Mantis 67520 Tri-Rad Folding Adult Tricycle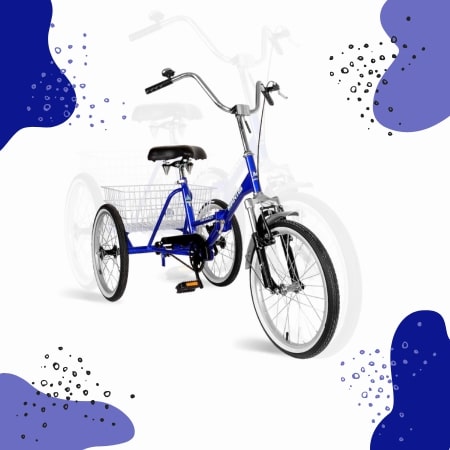 Check on eBay
Check on Walmart
The first thing that is important to mention about this unit is that Riding it was a breeze. It's got a low step-through frame that's super easy to get on and off. If you've been around trikes as long as I have, you know that's a feature that screams 'thoughtful design.' I hopped on and off with ease, making it a dream for those quick stops or just wrapping up the ride.
Now, let's get to one of its standout features – the folding design. This is a godsend for anyone short on space. With a quick and simple process, I folded it up and stashed it away in a jiffy. No need to worry about it hogging up precious space in your garage or apartment.
The 20-inch wheels on this tricycle made my ride smoother than a jazz tune. I cruised through various terrain with no fuss, all thanks to these big guys. And hills? No problem! The Mantis 67520 features a three-speed Shimano drivetrain that powered me up inclines without breaking a sweat. It felt like the trike was doing half the work for me!
The tricycle delivers on all fronts. It's comfortable, easy to ride, and the folding feature is a space-saving stroke of genius. Whether you're a seasoned rider or new to the world of trikes, this one offers a ride quality and convenience that's tough to beat.
Pros
Adult-Friendly Design
Folding Capability
Free Standard Shipping
Multiple Color Options
14-Day Returns
Cons
Pricey
Buyer Pays Return Shipping
5. Mobo Triton Pro Recumbent Tricycle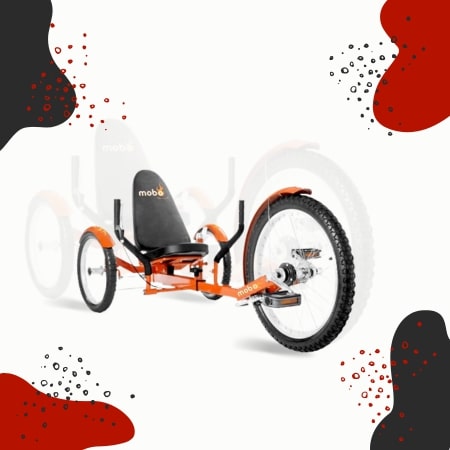 Check on Amazon
Check on DvaSata
Check on Target
Right off the bat, the Triton Pro caught my attention with its uber-comfortable seat, complete with a backrest. Picture reclining in a comfy armchair, but you're zipping along outdoors – that's the vibe. I spent a good few hours on this bad boy, and let me tell you, it felt like chilling on my porch rather than pedaling a trike.
Speaking of pedaling, the Triton Pro shines with its easy-to-use pedal assist system. This nifty feature made pedaling an absolute joy. It was easier on my joints and took some strain off my muscles, making the ride a breeze even when I pushed the pace.
Then there's the gear range – the Triton Pro has plenty to offer. I found myself easily tweaking the gear ratio to match my riding style, whether I was cruising leisurely or speeding down a track. The versatility it provides is truly impressive.
Of course, no trike review would be complete without a nod to durability and quality. I could tell right away that the Triton Pro is built to last, from its sturdy construction to the quality of its components. It's the kind of trike that feels like it'll stick with you through thick and thin, giving you endless enjoyment on the open road.
Pros
Ergonomic recumbent design
Adjustable frame for all ages
Enhances cardiovascular exercise
Low center of gravity (stable)
Durable build quality
Cons
Limited off-road capability
6. Slsy 7-Speed Adult Tricycles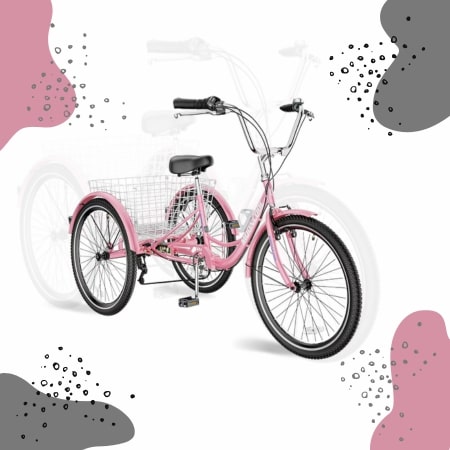 Check on Amazon
Check on Walmart
One thing that immediately stands out with this trike is the stability it offers. If you're like me and have had some issues with balance or coordination, this tricycle is like a dream come true. Those three wheels provide a solid, stable platform that gives you the confidence to ride without worry in the world.
Getting on and off was a piece of cake, thanks to its low center of gravity. I found it very user-friendly, especially if you're someone who finds mounting and dismounting a typical bike challenging.
Now let's talk about the speeds. The Slsy 7-Speed comes, well, with seven speeds! This gave me the flexibility to control my pace to match my mood and energy levels. Want to enjoy a tranquil ride? Done. Want to push the limits for a good workout? Done. You're in control here.
As for comfort, this trike excels. The wide seat paired with a backrest makes it feel like you're sitting on a comfy outdoor lounge chair rather than a bike seat. Extended rides are no longer a literal pain in the backside with this setup!
One of my favorite features was the sizable basket. I found it great for running errands or even carrying supplies for a spontaneous picnic. I tried it with a bag of groceries and there was plenty of room to spare. All in all, this is a unit that is definitely worthy of your attention.
Pros
Sturdy steel frame
Large rear basket
Multiple color options
Suitable for various terrains
Comfortable padded seat
Cons
Assembly can be challenging
Considerations to Make Before Spending Money
Comfort is Key
Comfort is a crucial factor when selecting a three-wheel bike for seniors. Look for bikes with padded seats, backrests, and adjustable components. As we age, our joints can get a bit cranky, so finding a bike that helps alleviate any discomfort is vital.
Bikes with low step-through designs make mounting and dismounting easier, while ones with pedal assist systems can lessen the strain on knees and other joints.
Stability and Safety
Three-wheel bikes offer greater stability compared to traditional two-wheelers, but there are still variations in design to consider. Trikes with a lower center of gravity can be more stable and easier to handle.
Pay attention to wheel size as well: larger wheels can help provide a smoother ride over rough or uneven surfaces. Safety features like reflective elements, lights, and flags can add an extra layer of security, especially if you plan on riding in low-light conditions or traffic.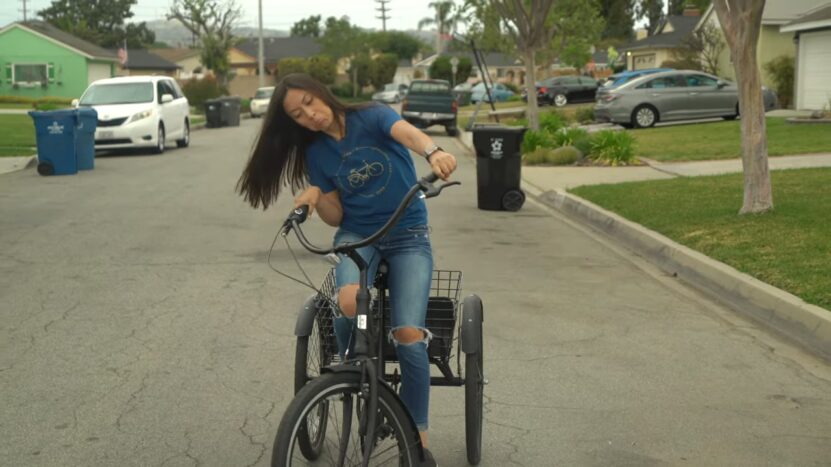 Ease of Use and Storage
An ideal three-wheel bike for seniors should be easy to use. Look for a bike with a simple, intuitive design, and preferably one with multiple speed options so you can ride at a comfortable pace. It's also worth considering storage: if you have limited space, a folding bike can be a game-changer.
Quality and Durability
Quality should never be compromised. A well-built, durable bike may cost a bit more upfront, but it will save money in the long run. Look for bikes made with quality materials, reliable construction, and respected brand names. Reading user reviews and doing a bit of research on the brand's reputation can give you a sense of the bike's longevity.
Test Drive
Whenever possible, try before you buy. What looks good on paper may not feel as good in practice. A test ride can help you gauge the bike's comfort, ease of use, and overall feel.
What Are The Different Types of Three Wheel Bikes?
There are many different types of 3 wheel bikes available on the market, each with their own unique features and benefits. Here is a look at some of the most popular options:
Recumbent Bikes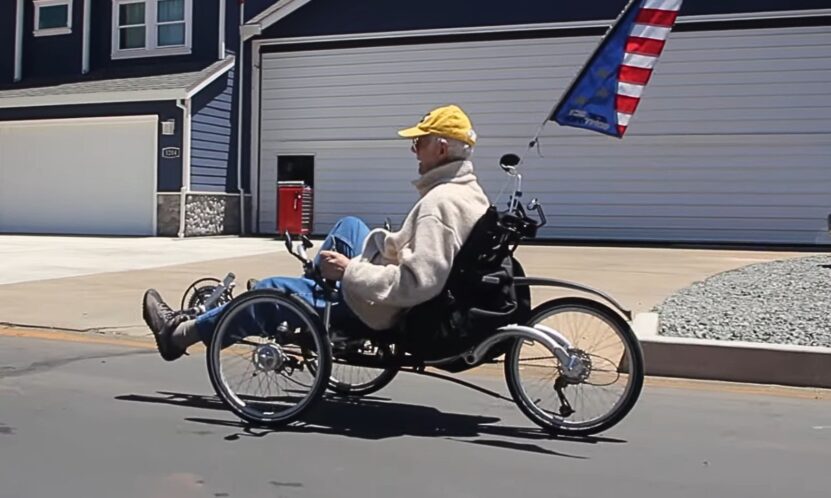 Recumbent bikes are a type of 3 wheel bike that is often favored by riders because of its comfortable, reclined seating position. This type of bike can be a great option for those who want a more relaxed cycling experience. Additionally, recumbent bikes tend to be easier on the rider's back and joints, making them a good choice for those with chronic pain or injuries.
Tricycles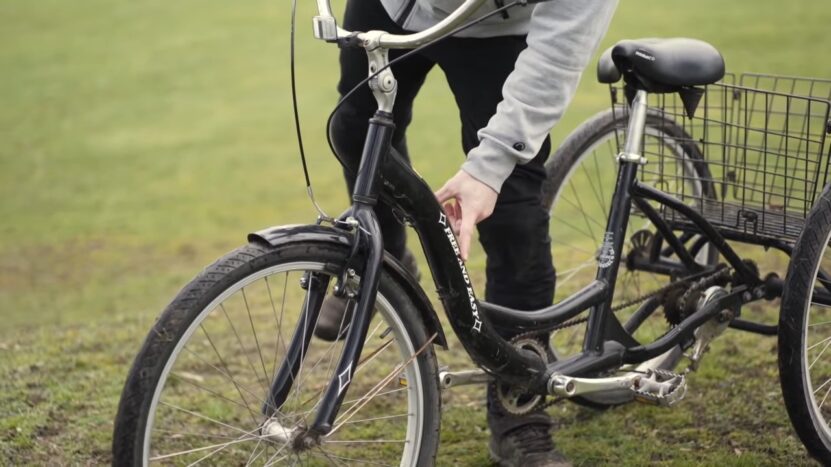 Tricycles are another type of 3-wheel bike that is popular among riders. Tricycles offer a more stable ride than regular bicycles, which can be beneficial for riders who are new to cycling or those who want to avoid tipping over.
Tricycles also tend to be easier to pedal than regular bicycles, making them a good choice for riders who may have trouble with balance or coordination.
Electric Bikes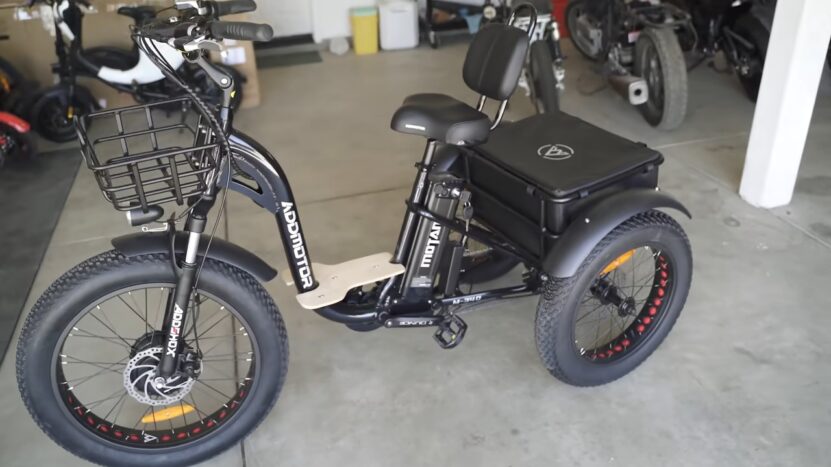 Electric bikes, also known as e-bikes, are a type of 3-wheel bike that is powered by a battery. Electric bikes can be a great option for riders who want a little extra help when cycling. Electric bikes can make it easier to climb hills and ride long distances, and they can also provide a boost of power when riders need it most.
Semi-Recumbent 3 Wheel Bikes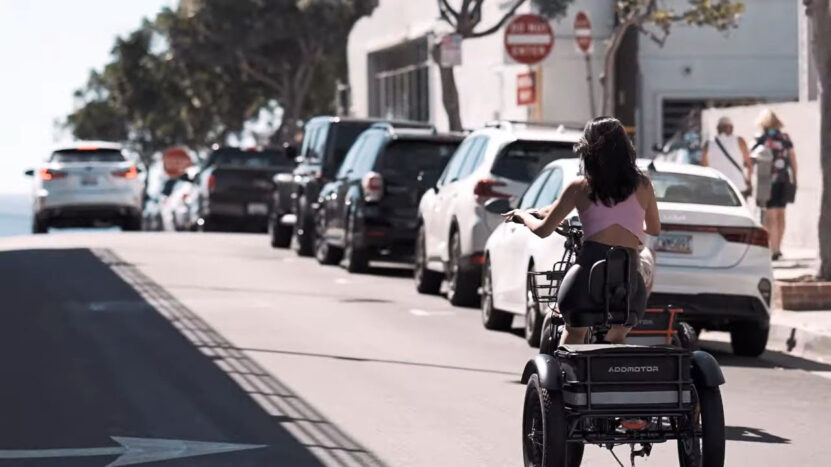 Semi-recumbent 3-wheel bikes are a type of bike that combines elements of both recumbent and tricycle designs. Semi-recumbent bikes offer a more upright riding position than recumbent bikes, but they still provide the rider with some of the stability benefits of a tricycle. Semi-recumbent bikes can be a good choice for riders who want a little of both worlds.
No matter what type of 3 wheel bike you choose, make sure that it is the right size for you and that it fits your riding style. With so many different types of 3 wheel bikes available, there is sure to be one that is perfect for you.
Folding Tricycles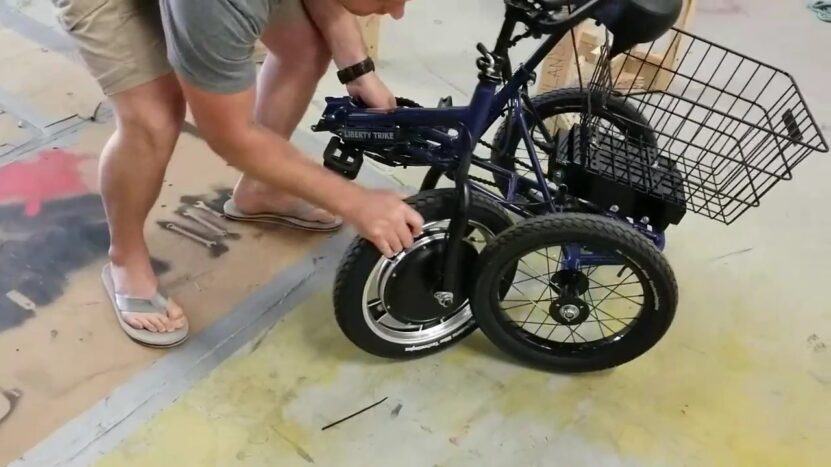 Folding tricycles are a type of 3 wheel bike that can be easily folded up for storage or transport. Folding tricycles are a good choice for riders who need a bike that is easy to take with them on the go. Additionally, folding tricycles can be a good choice for riders who want a bike that is easy to store when not in use.
Heavy Duty 3 Wheeled Bikes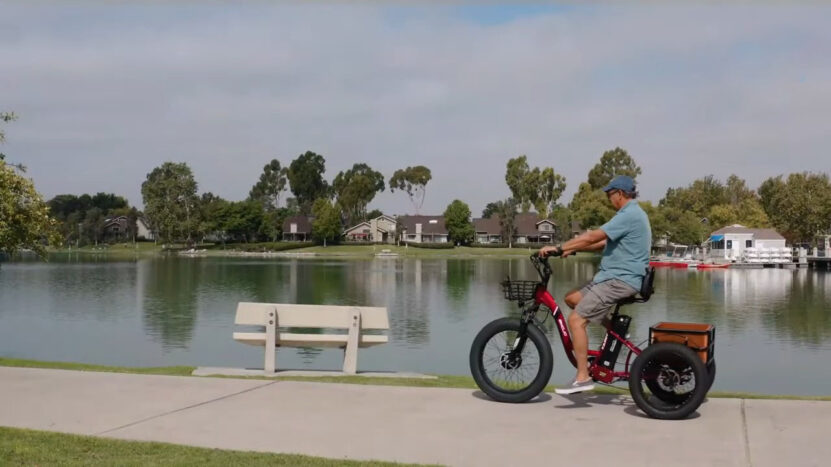 Heavy duty 3 wheeled bikes are a type of bike that is built to withstand more wear and tear than other types of 3 wheel bikes.
Heavy duty 3 wheeled bikes can be a good choice for riders who do a lot of off-road riding or those who need a bike that can handle heavier riders. Additionally, heavy duty 3 wheeled bikes can be a good choice for riders who want a bike that is built to last.
Special Needs Trikes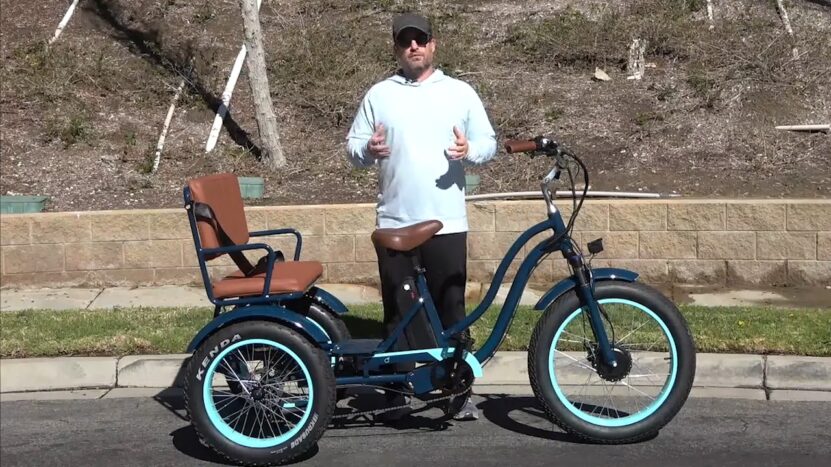 Special needs tricycles are a type of 3 wheel bike that is designed for riders with special needs. Special needs tricycles can be a good choice for riders who have difficulty balancing or those who need a bike that is easier to pedal. Additionally, special needs tricycles can be a good choice for riders who want a bike that is specifically designed for their needs.
How Do You Pick the Right Size Trikes?
Choosing the right tricycle size is essential for a safe and comfortable ride. Whether you're picking a tricycle for a child or an adult, it involves consideration of a variety of factors. Let's delve into these elements in more detail below.
The Rider's Physical Attributes
The first and foremost factor to consider is the rider's physical attributes. The rider's height, leg length, and overall physical capability play a significant role in determining the right tricycle size. It's essential that the rider can reach the pedals comfortably and that their feet can touch the ground when seated.
For kids, choosing a tricycle that they can grow into might seem like a good idea, but it could lead to safety issues. If the tricycle is too big, they might struggle to pedal, steer, or stop the tricycle, leading to potential accidents.
Assessing the Tricycle's Design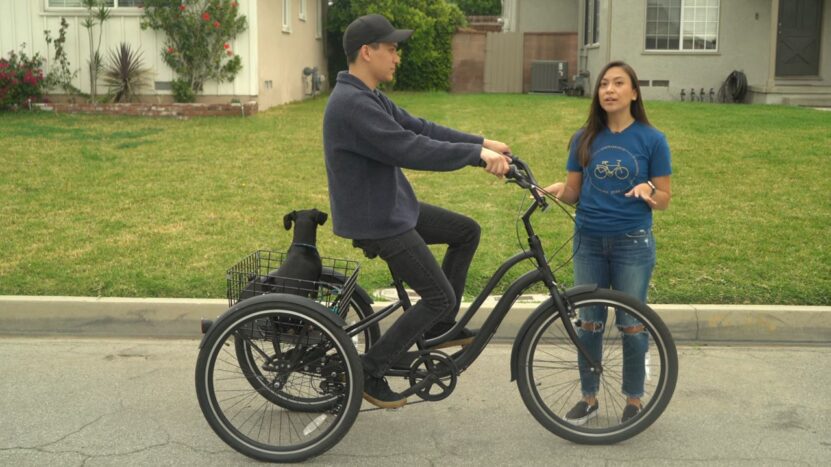 Next, consider the design of the tricycle. Some tricycles are designed with adjustability in mind, allowing you to alter the seat height or handlebar position as the rider grows or as their comfort needs change. This can be a good option if you're looking for a tricycle that will last for a longer period.
Different tricycles also have different stability characteristics, depending on factors like their wheelbase and center of gravity. A tricycle with a low center of gravity and a wide wheelbase will generally be more stable, which can be especially important for less confident or less able riders.
Checking Manufacturer's Sizing Chart
Every tricycle manufacturer will have a sizing chart that can be referred to for guidance. This chart will typically list the suggested rider height or age range for each tricycle size. Always cross-reference this chart with the rider's measurements to ensure a good fit.
Here is a basic guide that gives you an idea of what to look for when choosing a tricycle based on the rider's height:
| Rider's Height | Tricycle Wheel Size |
| --- | --- |
| 2'10" – 3'2″ | 10 inches |
| 3'2″ – 3'7″ | 12 inches |
| 3'7″ – 4'0″ | 14 inches |
| 4'0″ – 4'5″ | 16 inches |
| 5'0″ and above | 20 inches and above |
Remember, these figures are just a guide and it's always best to check the manufacturer's recommendations before purchasing.
Trying Before Buying
The best way to ensure the right fit is to have the rider try out the tricycle before purchasing. They should feel comfortable and be able to reach the pedals and handlebars with ease. If it's not possible to try out the tricycle in person, make sure you understand the return policy before buying.
Frequently Asked Questions
1. Is Riding a 3-Wheel Bicycle Good Exercise?
Yes, riding a 3-wheeler can give you a good workout. You'll use more muscles to ride one of these bikes than you would a regular 2-wheeler, so you can expect to burn more calories and get your heart rate up. If you're looking for a low-impact way to get some exercise, a 3-wheel bicycle may be a good option for you.
2. Are Trikes Safer Than Bikes?
Yes, trikes are definitely safer than bikes. For one, they have three wheels instead of two, so they're much more stable. Plus, they usually have some sort of safety cage or seatbelt system to keep riders safe in case of a fall or collision.
And finally, most trikes come equipped with hand brakes, which give riders more control and stopping power than traditional bike brakes. In short, trikes are just plain safer than bikes, and that's why we think they're the best option for kids and beginners.
3. Is It Difficult To Ride a Three-Wheeled Bike?
No, it's not difficult to ride a three-wheeled bike. In fact, it can be quite easy and enjoyable once you get the hang of it. There are a few things to keep in mind when learning how to ride a three-wheeled bike, but once you know them, riding will be a breeze.
4. Can You Fall Off a Three-Wheeled Bikes?
Most three-wheeled bikes have a low center of gravity, which makes them stable and difficult to tip over. However, it is possible to fall off a three-wheeled bike if you make a sudden movement or lose your balance. Be careful when riding and always stay alert!
Final Words
After going the distance on many trikes and sharing the inside scoop on what to look for when purchasing a three-wheel bike for seniors, it's clear that finding the perfect ride is about much more than just picking the model with the most bells and whistles.
Having firsthand experience of testing these bikes, I can't stress enough the importance of aligning your purchase with your personal needs and comfort level. While certain features like a padded seat, backrest, and pedal-assist system can make for a more enjoyable ride, your unique circumstances should ultimately guide your decision.
Remember, it's not just about the specs and the looks – take the time to do a test ride if you can. Nothing beats personal experience when it comes to determining whether a bike is right for you.